Couch, Jumper, graphite and marker on paper, 8 x 11", 2014
ALEX KVARES
MARCH 2015
@ada
March 13, 2015 through Mid-April, 2015
more info coming soon
READ ALEX' ARTFORUM CRITICS' PICK REVIEW BY LILLY LAMPE
FROM JANUARY 2014

ALEX KVARES : ALL MY WORK IS POSTHUMOUS
@ MULHERIN + POLLARD ( OUR FORMER SISTER GALLERY IN THE LOWER EAST SIDE, NYC.
Alex Kvares creates drawings whose delicate pencil strokes and ebullient colors belie the depraved scenes they depict. His representational works examine the slippery status of legacy, particularly of male political figures as he depicts them in a range of compromised positions. Hussars Picnic 1, 2014, for example, depicts pale European men in teal-and-mauve military dress engaged in sordid acts. A drummer watches as his comrades are decapitated or lie in puddles of their own vomit, while a triumphant general stands unmoved by the scene. The bright colors and cheerful quality of the figurative images upend their most gruesome aspects, rendering them as comical and enjoyable despite their depravity. While the scenes might illicit reactions of disgust and pity, aesthetically speaking the illustrative quality is alluring, which sets a pendulum of moral issues pertaining to schadenfreude into motion.
Other drawings in this show register more clearly as depictions of abject figures. In one work from the series Mondegreen, 2011, which includes twenty drawings, a nude man rendered in psychedelic hues sits with his knees drawn up, sucking his finger childishly, on a Frank Stella-esque pinstriped geometric plane. The man's hair pattern resembles that of a younger Karl Marx, yet his deadened eyes and infantile posture posit him as helpless. The title - which refers to confusion by homophone - here works visually to undermine perception with the implication that an image, especially that of this doppelganger, can produce the same confused effect. This disconnect comes to a head with The Day I Became Men, 2011. In this artwork, a group of men wearing Communist medals gathers at a campsite and engages in a ritual that seems both pagan and erotic (though the men dressed in khakis and loafers seem anything but). The central figure has been beheaded and places one hand upon his own skull while raising his other in a thumbs-up gesture. A phallic white structure protrudes from his neck, which the other men eagerly notice - here and throughout presenting political figures as savages seems less critique than catharsis. - Lilly Lampe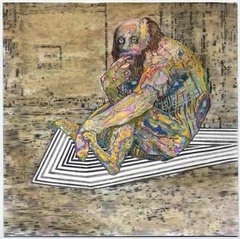 Alex Kvares, "Mondegreen", one of twenty works,
2014, mixed media, 6 x 6".