ADA GALLERY 228 WEST BROAD STREET, RICHMOND VIRGINIA 23220
Shannon Wright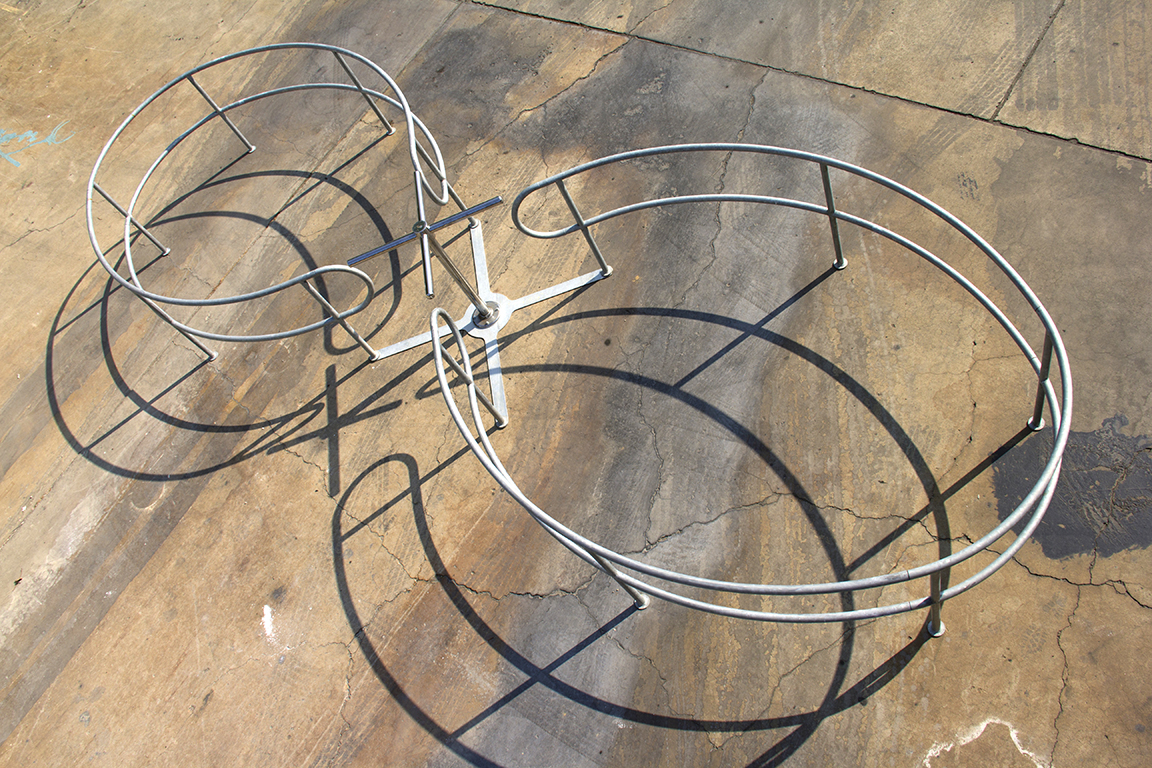 Holding Pattern, 36 × 270 × 96 inches, galvanized steel pipe, found chromed turnstile, 2017
BIO
Shannon Wright is a sculptor and installation artist based in San José, California. Born in Baton Rouge, Louisiana, Wright grew up chiefly in Sydney, Australia, and then in Richmond, Virginia, where she received her BFA from Virginia Commonwealth University in Sculpture in 1990. She earned her MFA in 1994 in Time Arts from The School of Art Institute of Chicago. Recent exhibitions include Beyond Borders, Stories and Im(migration), a group exhibit at Santa Clara University (Santa Clara, CA), Untitled Miami Beach 2015 and 2017 with ADA Gallery (Miami Beach, FL), Dallas Art Fair with ADA Gallery (Dallas, TX), and Shannon Wright: Heroic Measures, a solo exhibition at ADA Gallery (Richmond, VA).

Wright's work has been recognized by numerous awards, including multiple California State University Research Grants in 2017, 2015, 2011 and 2006, the Silicon Valley Creates SV Laureates Award, and two Illinois Arts Council Fellowships. Her work has been featured in publications such as Hi Fructose and Hyperallergic, and she has given public lectures at UMass Amherst, San Jose State University and Kuvataideakatemia, the Finnish Academy of Fine Arts, among others.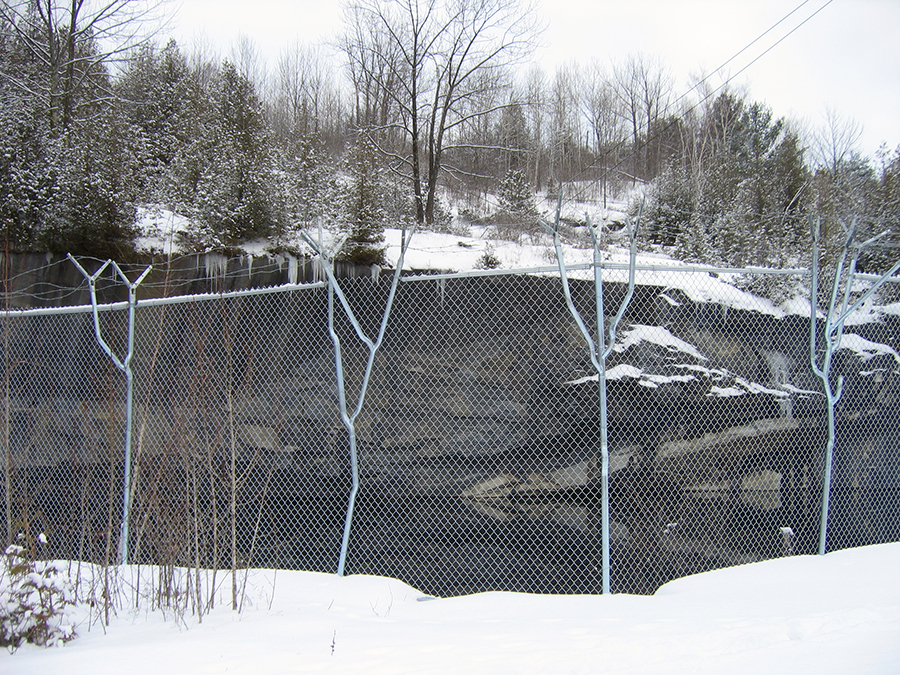 Feral Fence, 12' x 80'x 30", zinc-plated steel pipe, galvanized steel pipe, chain-link fencing, hardware, barbed wire, 2007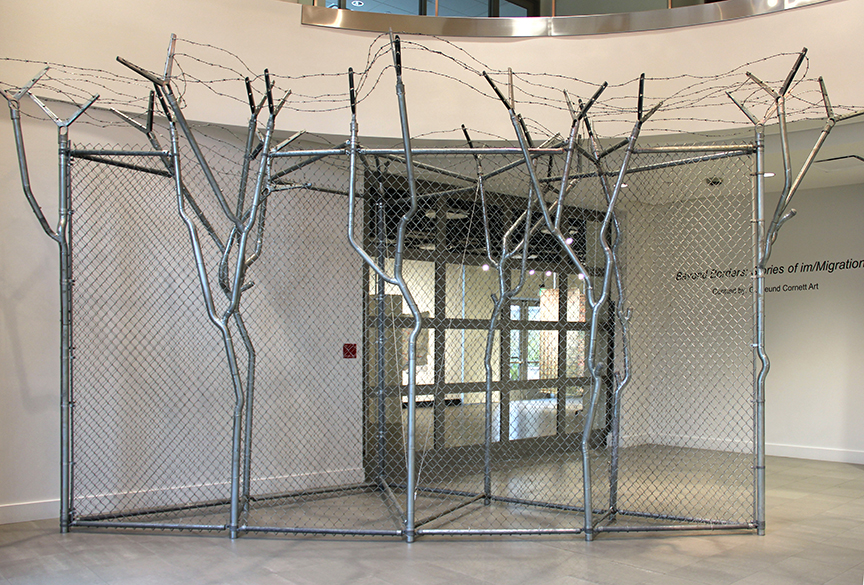 Feral Fence, 2007 - reconfigured and rebuilt to be freestanding and indoors, December, 2017.
Installation view from Beyond Borders: Stories of im/Migration, curated by Gutfreund Cornett Art Edward M. Dowd Art Building, Santa Clara University, Santa Clara, California.
Modernist utopias-turned-dystopias (the built and the never-built) have long fascinated me. In several of my pieces from the past twenty years I have aimed to create the impression of simplistic, institutionally-issued "solutions" to contemporary problems. In some cases, I intend for these solutions to now appear to be relics or ruins–poorly-conceived projects, now abandoned. With the piece called Feral Fence (2007) I hoped to suggest that this ubiquitous separator of public space and private property had been neglected–and had perhaps been irrelevant–for so long that it had reverted to a "state of nature."
From 2007 to 2008 the 12-foot-tall, 80-foot-long fence was exhibited along the edge of a quarry in Vermont. In 2007 artist and critic Marc Awodey wrote, "California artist Shannon Wright's "Feral Fence" is a 10-foot-tall chain-link fence made of pristine, gleaming steel... A jumble of Y-shaped barbed-wire fence-post caps are woven with three strands of prickly wire, as if to suggest the old quarry is a treasure not be trespassed on. Of course, it's an absurd fence, and possibly a wry critique of some of the border schemes currently being discussed in Washington, D.C."
Ten years later, such a "border scheme"–a grotesque symbol of hubris and myopia–is on the brink of realization in the U.S. In this political climate Feral Fence offers a vision of a kind of "magical thinking," of a natural, gradual unraveling of an act of human aggression.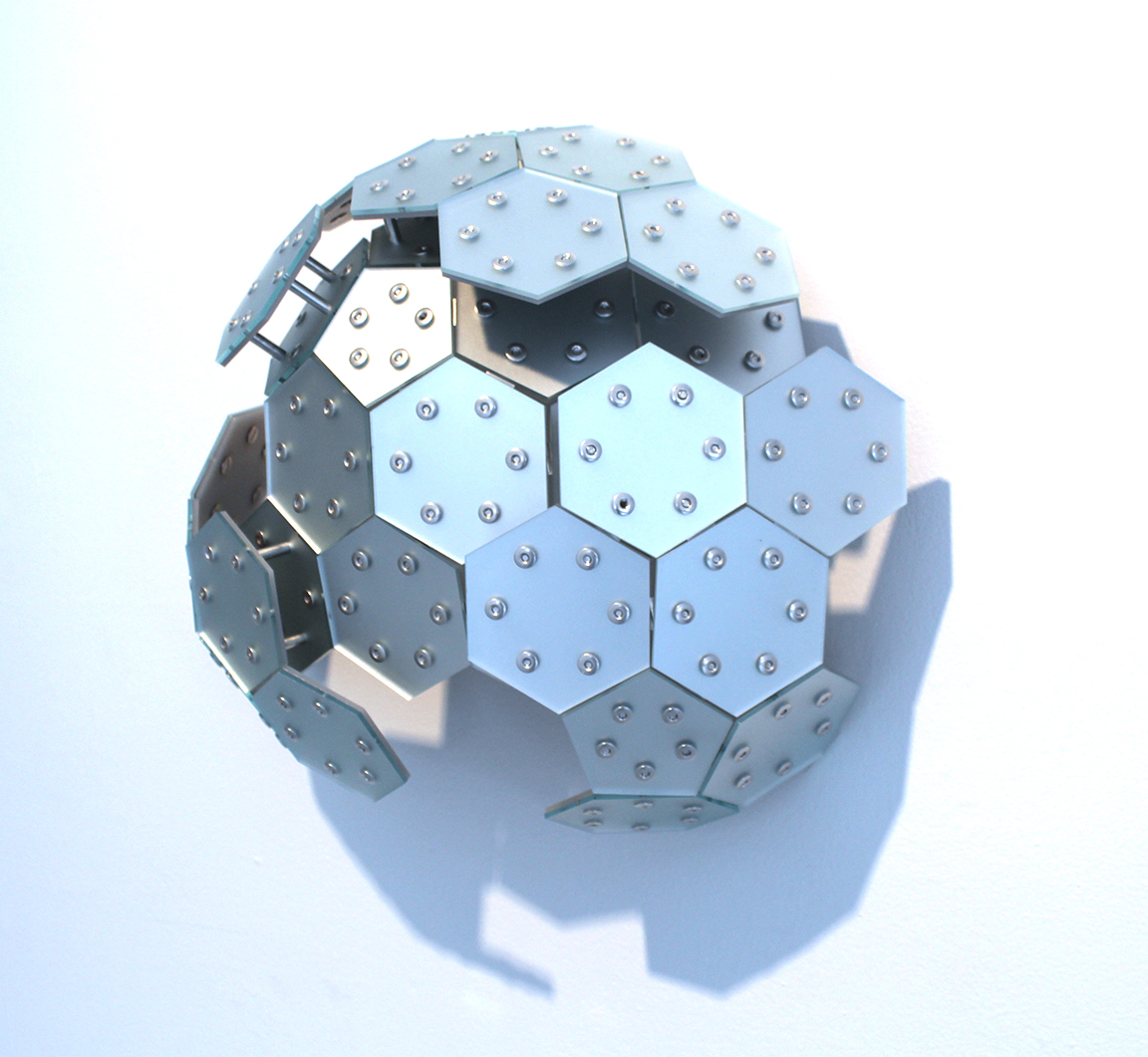 Moonshot, 25h x 19w x 8d inches, acrylic, aluminum, aluminum hardware, 2017
This piece as well as Wright's other recent works, are currently on view at ADA in the solo exhibition, Moonshot.
Artist Statement for Moonshot:
My new pieces have been inspired by my ever-shifting relationship to Silicon Valley. Using local corporate architecture and all the aspirations and attitudes it embodies as a jumping-off point, I've been experimenting with a variety of structural systems in small-scale sculptures. With these modular structures I aim to convey a sense of the limitless ambition and "fake it till you make it" optimism of startup-culture– a striking counterpoint to the forced exodus of many longtime residents of the region. I intend for these pieces to serve as subjective, abstract distillations of my interpretations of the Silicon Valley zeitgeist. - Shannon Wright
RECENT WORK : 2017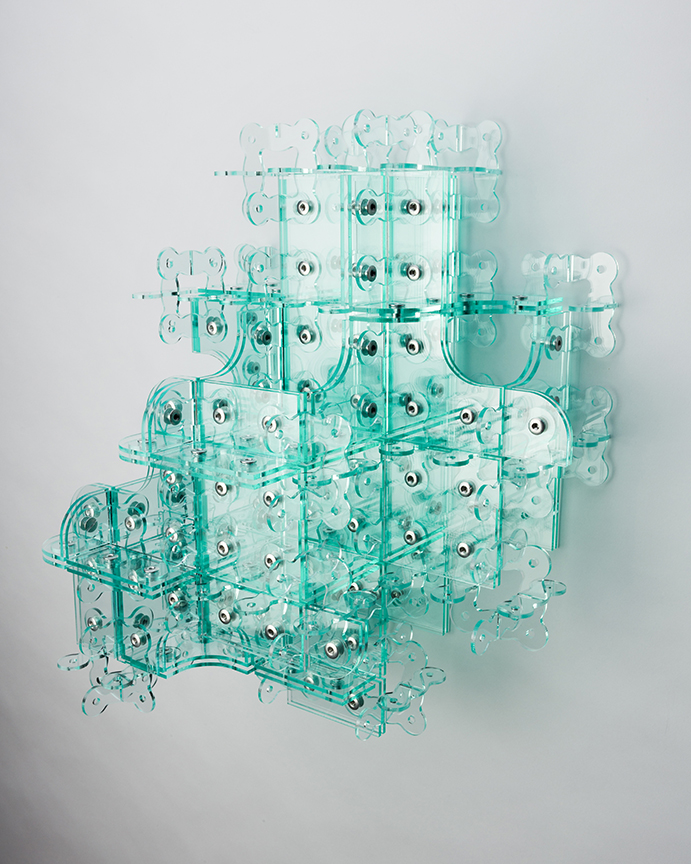 Googolplex, acrylic, aluminum hardware, 17h x 14 1/2w x 9d in., 2017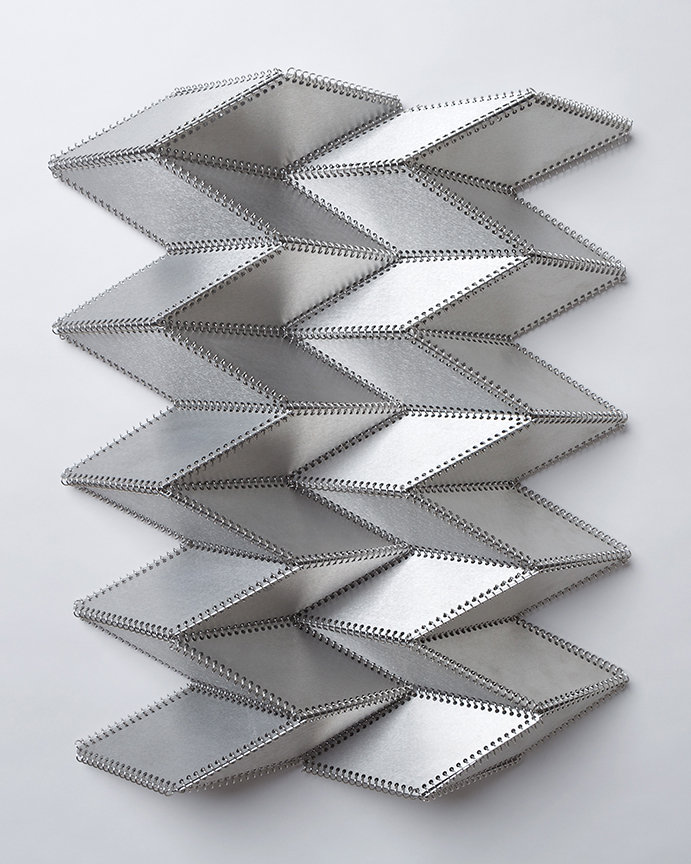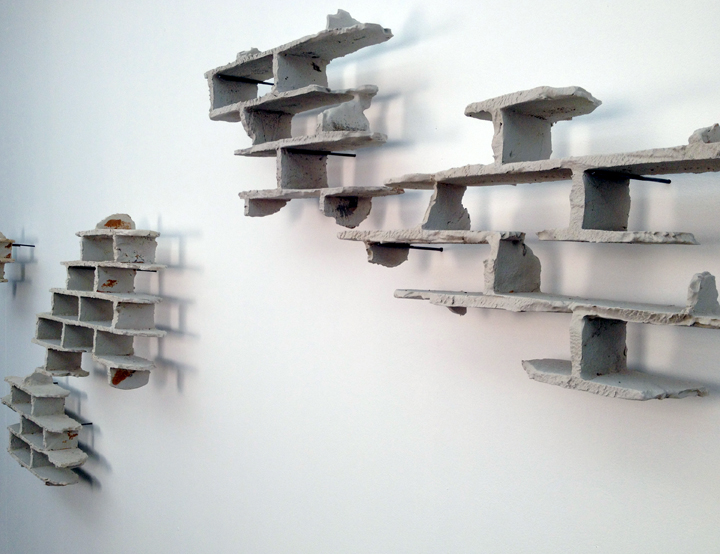 Wall (After Marfa), 2015

The initial inspiration for this piece was the adobe wall surrounding Donald Judd's house and studio in Marfa, Texas, which I visited in 2008. The wall's adobe bricks have eroded far past the harder mortar. I sought to make a wall in which the bricks had completely eroded away, leaving only a lacework mortar structure.

The piece continues my "Form and Content" series. What constitutes the content of a piece? Can the content be extracted from a form? I appreciate the absurdity of attempting to visualize where an object's meaning resides. Maybe it's embedded in each particle of the stuff that a thing is made of—or maybe it hovers like an aura over the entire object.

I'm fascinated by Heidegger's essay, "The Thing," in which he considers what I interpret as the responsibilities of things: a jug "gathers" itself to the task of holding (and giving) water, while simultaneously the earth "bears" buildings. Does a brick wall fulfill its responsibilities as a wall once its bricks are gone? This line of questioning parallels my lifelong struggle to comprehend the idea of the egress of a "soul" from a body, or the evaporation of a consciousness.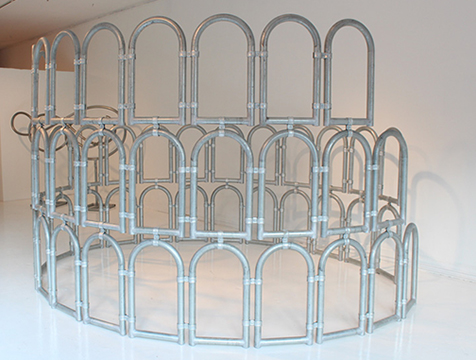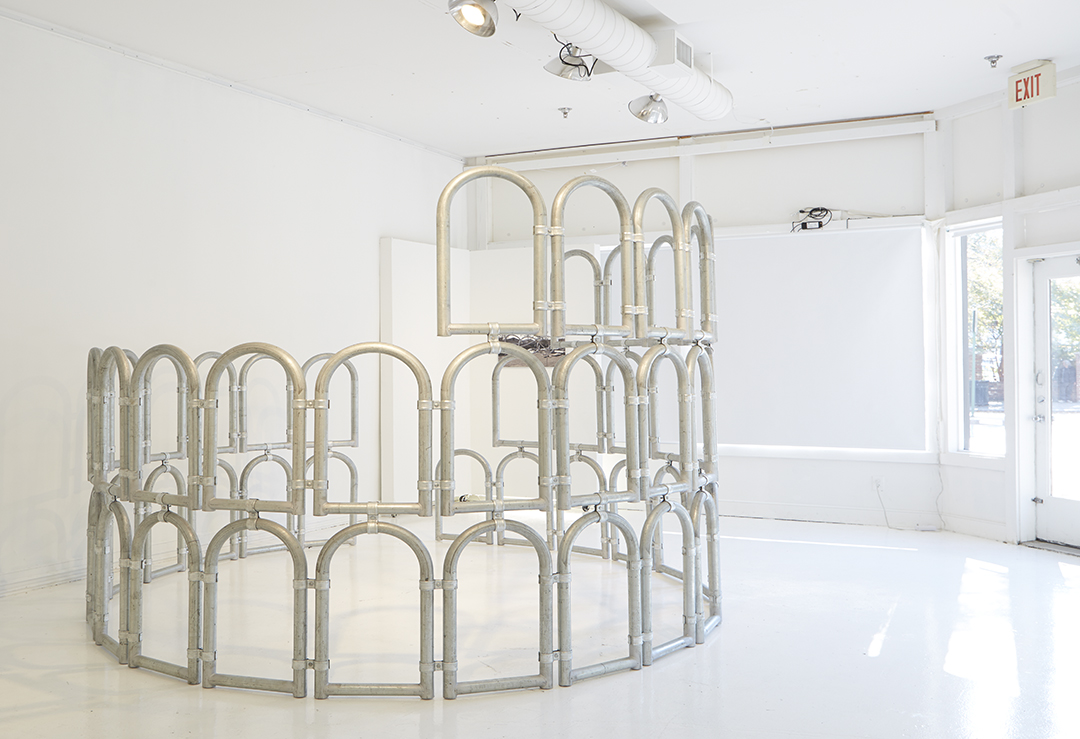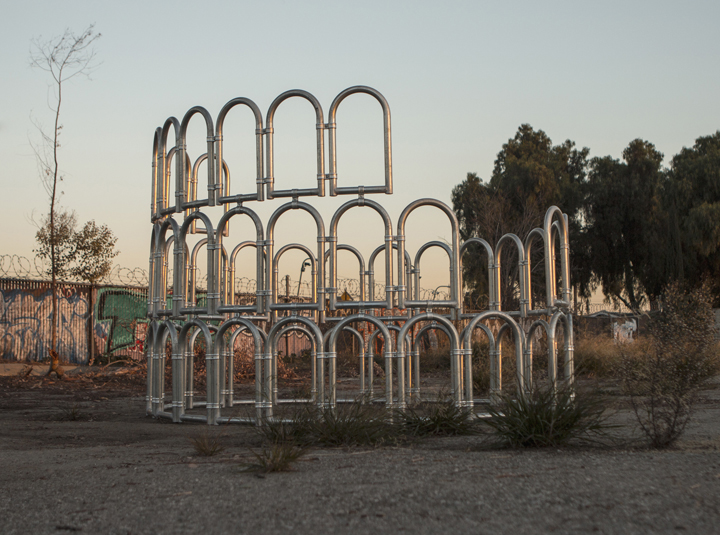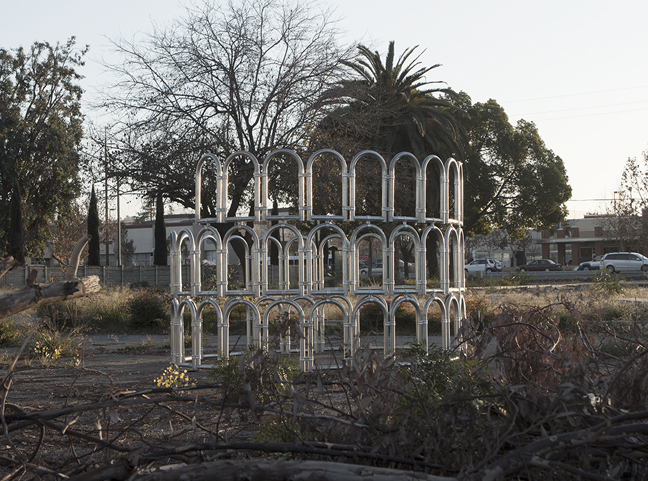 Heroic Measures, 2014

I frequently use modules and grids in my work, largely for their associations with Modernism, utopian failures and economic utility, but also because of the undeniable allure of repetition and my longtime fascination with connective systems. I put forth fictitious "products" that might appear to have been government-issued or sold by Home Depot, and subsequently allowed to fall into a state of ruin. With these objects I mourn the erosion of regional cultural identities– an unfortunate side-effect of globalization– while hoping that my industrial parodies will project a poignant elegance of their own.

In a piece from 2014 entitled Folly (Colosseum of Rome), I used fifty-two galvanized steel pipe arches connected with fence hardware to suggest the iconic Roman structure while blurring the generic forms of bike rack, cattle pen and crowd barrier. In another piece, Flourish (Public Art), I poke fun at the notion that urban blight can be ameliorated through the addition of strategically placed curlicues. I worked with a chain-link fence company in San Jose to render a stock calligraphy flourish in clunky galvanized pipe, with the awkward "feet" and sandbag ballast associated with temporary fences.

In my Historic Preservationist (Heavy Equipment Tires) series, I re-interpreted four decorative traditions from around the globe into the visual language of huge earth-moving equipment tires that may soon facilitate their extinction. This series responds to the vast destruction of villages in contemporary China, and to the loss of the centuries-old traditions that relied on the societal structure of the village. Wrested from their original context, the historical patterns are reduced to mere logos or brand names.