Jeremy Drummond
recent ada gallery exhibit :
Today, 49 Shades of Grey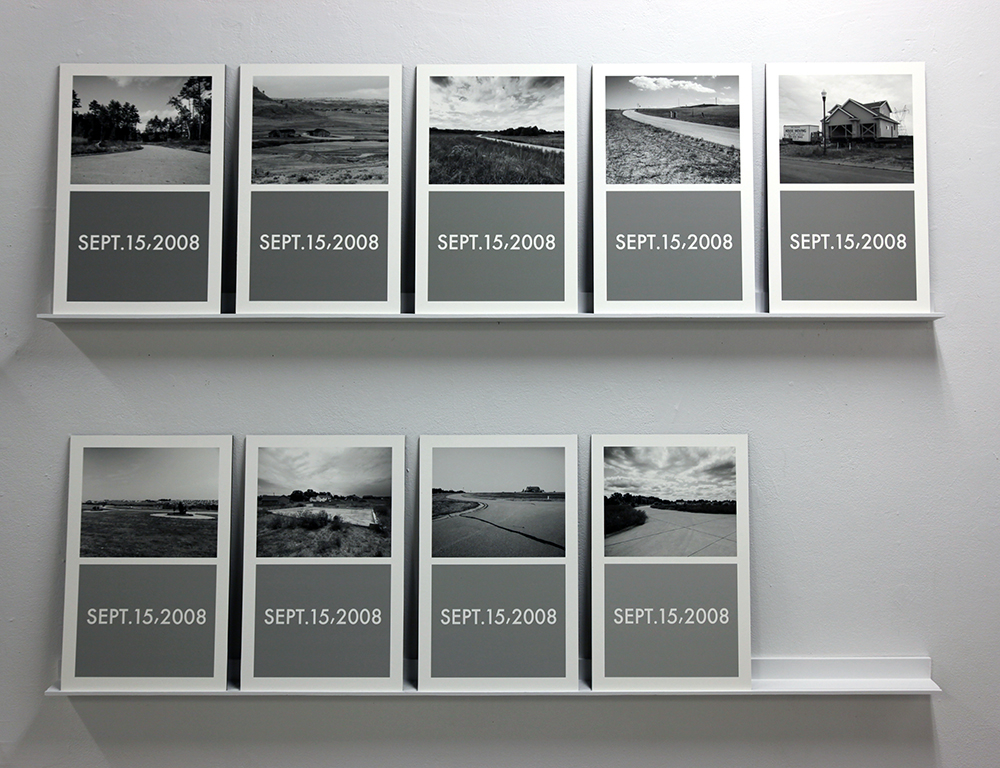 EXHIBITION DATES: NOVEMBER 3 - 26, 2016
Rooted in single-channel film and video, Drummond's practice extends into photography, sound, printed matter, and installation. While his early video works deal with gender/sexuality within media and architectural environments, his recent works have evolved into broader explorations between people and place. Areas of inquiry include suburban development and cultural migration, manufactured landscapes and global economics, industry and vernacular culture, and sensory deprivation and solitary confinement within the architectural and philosophical infrastructure of the prison industrial complex.
Today, 49 Shades of Grey marks the premiere of a collection of works Drummond produced between 2012 and 2015. Traveling across the USA to capture footage of incomplete, foreclosed, and abandoned subdivisions throughout 49 States-Drummond developed an archive of source material that collectively, foregrounds landscape as a mechanism to visualize the somewhat abstract nature of the 2008 economic collapse. Selections from this archive of source material have been transformed into 4 interrelated projects in 35mm slide projection, digital photography, 16mm film, and found images: Grave Architecture, Today, 49 Shades of Grey, Death 24x a Second, and Aloha. As a whole, these interrelated works not only speak to the contemporary American condition, but to the complex infrastructure of global economics in the twenty-first century and the often-obscured relationships between history, economics, culture, and landscape.
Jeremy Drummond was born in Edmonton, Alberta and grew-up in Vancouver, British Columbia, Canada. He now serves as Chair of the Department of Art & Art History at the University of Richmond and divides his time between Richmond and Toronto.
Drummond's work has been exhibited in festivals, galleries and museums worldwide. His films and videos have received awards such as the National Film Board of Canada award for Best Canadian Film or Video Maker at the Images Festival of Independent Film, Video and New Media (Toronto), Best Experimental Video at the Chicago Lesbian & Gay International Film Festival, The People's Choice Award at the New Forms Festival (Vancouver), and the No Budget Award at the Cinematexas Texas Festival of International Film & Video (Austin). He has received grants and fellowships from the Canada Council for the Arts, the National Film Board of Canada, and the Virginia Museum of Fine Arts.
His project entitled 65-Point Plan for Sustainable Living was featured in Prefix Photo (Toronto) and Cabinet: A Quarterly of Art and Culture (Brooklyn). His work has been critically examined in publications from Rutgers University Press, the University of Western Ontario, the University of British Columbia, the University of Madrid, Skol Centre for the Arts Actuel, and the Dunlop Art Gallery. Reviews of his work have appeared in the Washington Post, Baltimore City Paper, Des Moines Register, Edmonton Journal, NRC Handelsblad (Amsterdam), Canadian Architect, and the Society for Electro-Acoustic Music (SEAMUS).
Drummond's film and video works are distributed internationally through the Netherlands Media Art Institute (Amsterdam), Videographe (Montreal), Video Out (Vancouver), Video Pool Inc. (Winnipeg), and Vtape (Toronto). His printed works are available through Art Metropole (Toronto), Printed Matter Inc. (New York City) and the New Museum of Contemporary Art (New York City). He is represented by ADA Gallery (Richmond).
PREVIEW OPENING: THURSDAY, NOVEMBER 3, 2016 (6-8PM)   and FIRST FRIDAYS: FRIDAY, NOVEMBER 4, 2016 (7-9PM)
FOR MORE INFORMATION, IMAGE REQUESTS, ETC. CONTACT ADAGALLERY@GMAIL.COM
ADA GALLERY 228 W.BROAD ST., RICHMOND VA. 23220